You may have heard of social trading applications: for the past few years, individuals have been increasingly interested in investing their money in crypto-currencies, stocks, ETFs (exchange traded funds) and much more from their PC or cell phone.
The broker that has been in the news a lot lately, you may already know, is eToro. But where does this broker come from that is revolutionizing smartphone trading? What is it worth? Is it a trusted site? The answer to all of these questions and what to make of your opinion of eToro next.
What is EToro?
EToro is a website based in Israel that allows you to do social trading. Created in 2007 under another name (RetailFX), the idea behind this site is to make trading and the stock market easy and accessible to everyone, notably thanks to "Copy Trading" (which we will see later). It is a site adapted for beginners as well as for experienced investors. As of December 2021, there are over 21 million verified accounts on eToro.
Since 2018, eToro's net worth has tripled: this company valued at 800 million just a few years ago is now valued at 2.5 billion. This rise is due in part to the decision to trade crypto currencies: since the bitcoin explosion a few years ago, we've been hearing more and more about crypto currencies, or "crypto currencies" in English, and eToro hasn't missed the opportunity to give its customers what they're looking for.
It was also in 2018 that eToro launched its mobile app on iOS and Android, which made trading from one's smartphone much easier. Although possible on the browser, trading is made easier and the interface is more pleasant with the app. In a world that moves at such a speed, you don't have to be a slouch to create your smartphone app, and eToro understands that: they've launched an easy to use and visually pleasing app.
SEE ALSO: What are the differences between listed and OTC options?
Why do people choose eToro?
Etoro isn't the only trading site with a smartphone app that exists on the market. So what makes it unique? Why does it leave its competitors far behind? Why are the reviews of etoro so glowing?
What are the pros and cons of investing in eToro?
First of all, note that eToro doesn't take any commission on your investments, and doesn't charge any management fees. This is a great advantage that not all sites of its kind offer. You'll also see that you're insured for free up to 1 million euros with Lloyds.
As we said above, eToro also offers copy trading, which is a service that allows you to see what investments other people are making. You can "follow" someone who's making a lot of money, and imitate their investments: just go to the dedicated page to see the most followed people, what their returns are, and how much risk you're taking by imitating their investments. You can also look at what stocks and currencies the majority of people invest in ("social trading"), and follow the crowd. This is a very innovative and interesting tool for beginners in the field.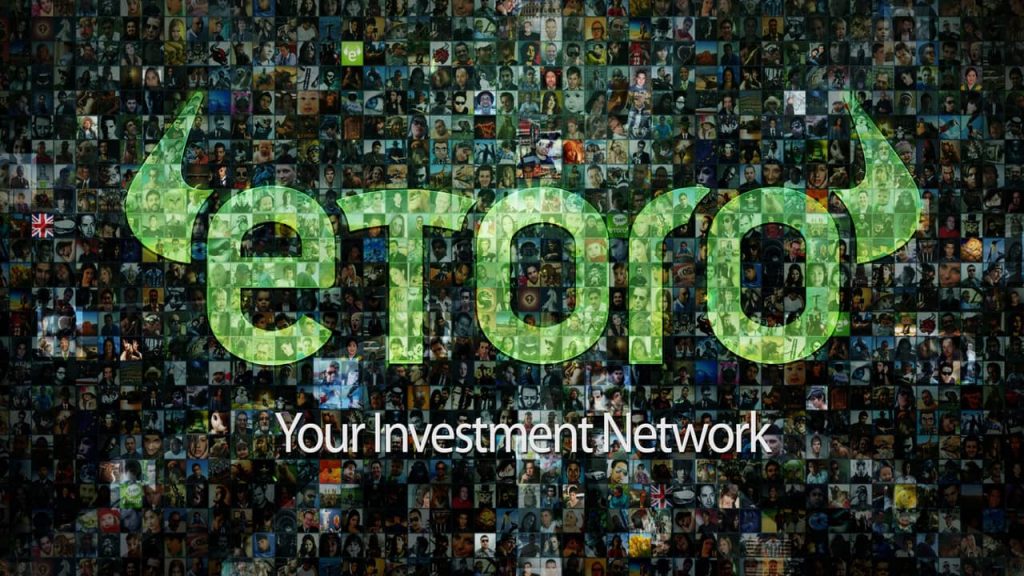 You can also – if you're still in doubt and afraid of losing money – do some sort of risk-free trial. EToro offers a "demo" account with 100,000 "virtual" dollars with which you can practice investing. You can chat with other investors, study the market, and learn how to make your investments without taking a big risk every time. It's another very nice tool that makes eToro a great site for beginners and those who want to start investing without taking too much risk.
EToro offers a veritable plethora of benefits to making your trading debut there, but note that there are fees to be expected if you want to start investing there, including a currency conversion fee (0.5%), a withdrawal fee that amounts to $5.
Summary table
To make your life easier, here is a table that summarizes the advantages and disadvantages of this broker.
| EToro Advantages | EToro Disadvantages |
| --- | --- |
| Copy trading and social trading | Conversion fees |
| Simple and uncluttered website and application | Withdrawal fees |
| Demo account that reduces the risk of making rookie mistakes | |
| Responsive customer service | |
| No commissions or hidden fees | |
SEE ALSO: Investing passively in the stock market via ETFs: good or bad idea?
How do I trade on eToro?
Trading on eToro is very simple compared to other interfaces or apps of its kind. You can invest in crypto-currencies, stocks, commodities, ETFs, indices and currencies from your phone or PC.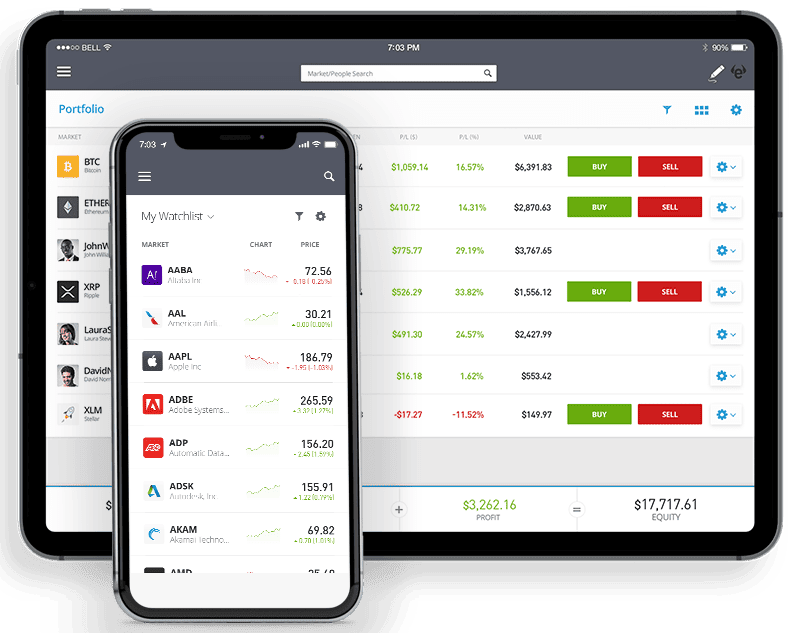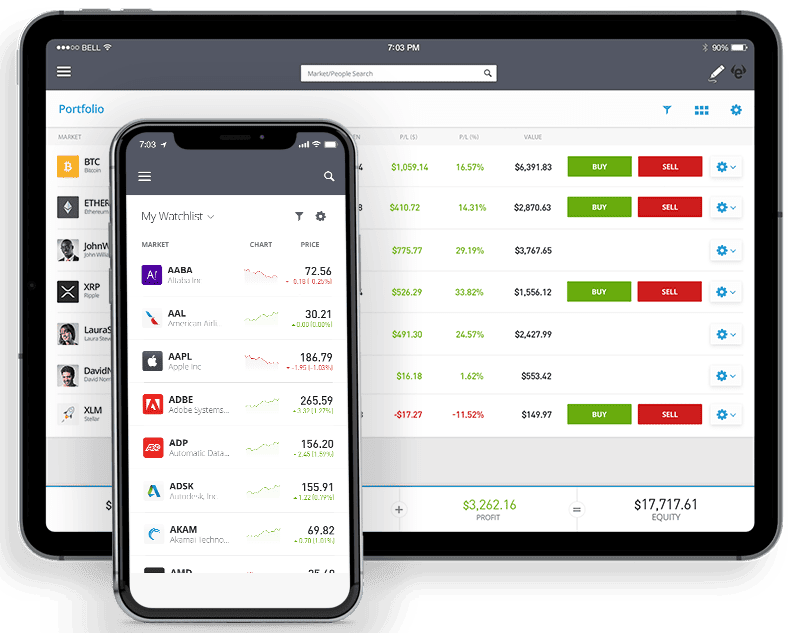 All you need to do to start investing is to create an account on their website, and check your email to get started. Then you have to fill in your profile: you will give some information like your name, surname, address, and especially how many times in the last year you have invested in stocks, crypto-currencies or others, as well as if you have degrees in the field of finance. Your investment offers will then be tailored to your experience. You will also be asked questions such as what your expectations of trading are, what you intend to do with your earnings, etc. Then a human verifier will have to check the information you have entered – it may take a little while before they start investing, so be patient.
Once your account is verified, you'll be able to make a deposit into your account and start investing in whatever you like. Don't forget to take advantage of the tools like Copy Trading that the platform offers, take advantage of all the benefits available to you to lower your risk and increase your profits.
What do eToro users say?
Don't take our word for it, just do a quick google search to see that eToro is a trusted site with positive reviews. You might be afraid when you sign up of all the questions you'll be asked, but rest assured that eToro is not a suspicious site, and your data is safe.
On independent review sites, eToro always comes out with favorable reviews: responsive advisors, a nice and intuitive interface, loyal users for many years.
One last piece of advice before you sign up: always remember to check that the site is not blacklisted by the AMF. If this is the case, absolutely run away.